Are you a designer looking for another source of income? If so, affiliate programs related to design may be just the thing for you. Affiliate programs are a great way for designers to make money without having to actually create a product or service. This article will explain how to make money using design related affiliate programs.
What are Affiliate Programs?
An affiliate program is an arrangement between a merchant and an affiliate in which the affiliate earns a commission for referring customers to the merchant's website. In other words, when someone clicks on an affiliate link and makes a purchase, the affiliate earns a commission.
What are Design-Related Affiliate Programs?
Design-related affiliate programs are programs that offer commissions for referring customers to websites that sell design-related products or services. Examples include stock photo sites, graphic design tools, web hosting services, domain registrars, and more.
How to Make Money with Design-Related Affiliate Programs
Making money with design-related affiliate programs is relatively straightforward. Here are the steps you need to take:
1 – Find an appropriate program. There are many different types of design-related affiliate programs available. Do some research and find one that fits your needs.
2 – Sign up for the program. Once you've found a program you want to join, sign up for it. Most programs require you to provide a valid email address and other basic information.
3 – Generate affiliate links. Once you've signed up for an affiliate program, you'll be given access to your affiliate dashboard, where you can generate unique links or banner ads that you can use to refer customers to the merchant's website.
4 – Promote your affiliate links. Now that you have your affiliate links, it's time to start promoting them. You can do this through your own website or blog, through social media, or by creating banner ads and other types of online advertising campaigns.
5 – Track your progress. Most affiliate programs provide reporting tools that allow you to track the performance of your campaigns in real time. Use these tools to monitor your progress and tweak your campaigns as needed in order to maximize your earnings potential.
I've put together a list of 35 affiliate products or services for designers. I bet you probably even use some of these services and products yourselves in your work. I do, so why not earn some extra cash by recommending them?
Disclosure: Some of the links in this article may be affiliate links, which can provide compensation to me at no cost to you if you decide to purchase a paid plan. These are products I've personally used and stand behind. This site is not intended to provide financial advice and is for entertainment only. You can read our affiliate disclosure in our privacy policy.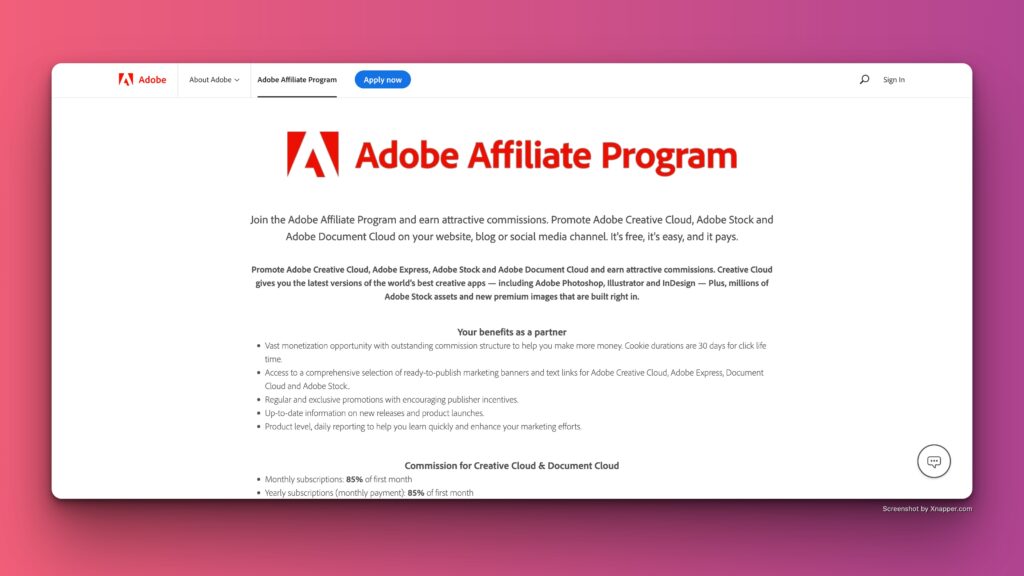 Adobe
Chances are that if you're a designer, you have worked with one of the Adobe programs at some point in your career and you probably know most of the keyboard shortcuts by heart.
There are a lot of alternatives to the programs that Adobe offers, some are even better than what Adobe offers, but the Adobe programs are still the most used at all the creative agencies I've worked with over the years and will probably continue to dominate the creative industry for many years to come.
The Adobe affiliate program is great. If you partner with Adobe you get a range of benefits that can help you promote their products. They give you access to a comprehensive selection of ready-to-publish marketing banners and text links for Adobe Creative Cloud, Adobe Express, Document Cloud and Adobe Stock.
The commission structure for Creative Cloud and Document Cloud looks like this: If people sign up to their monthly subscriptions, you receive 85% of the payment for the first month. Yearly subscriptions (monthly payment) pays out 85% of first month and Yearly subscriptions with a one-time payment gives out 8.33% of first year payment.
Adobe also has a large stock assets library called Adobe Stock where you can find everything from royalty free images, stock videos, audio, indesign templates and even 3D models.
Adobe Stock commission structure looks like this: Monthly subscriptions: US$72 Yearly subscriptions: (monthly payment): US$72 Single Purchase: (one-time payment): 8.33% 3 standard assets a month (monthly payment): 85% of the first month.
Skillshare
Type: Online course platform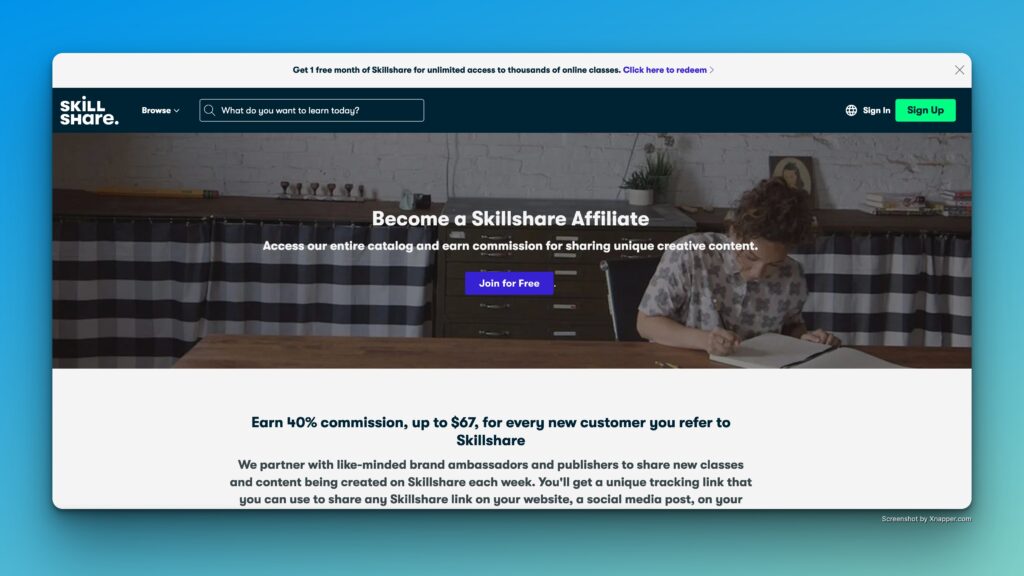 Skillshare is an interactive learning platform that offers a wide range of courses from top instructors. Courses are designed to help users learn new skills, improve existing ones, or explore a new area of interest. Skillshare's courses are available on demand, so you can take what you learn when it's most convenient for you.
With over 10,000 courses available in 80+ categories, there's something for everyone at Skillshare. Not only can you learn new skills, but you can also expand your knowledge by exploring different topics and learning from experts in their fields. You can also earn badges and credits that can be used towards future courses. I've used Skillshare for years to learn new software or brush up on skills in a particular field like hand lettering, 3D, animation or mixed media design.
When you are an affiliate of Skillshare you can earn a 40% commission, up to $67, for every new customer you refer to Skillshare.
Domestika
Type: Online course platform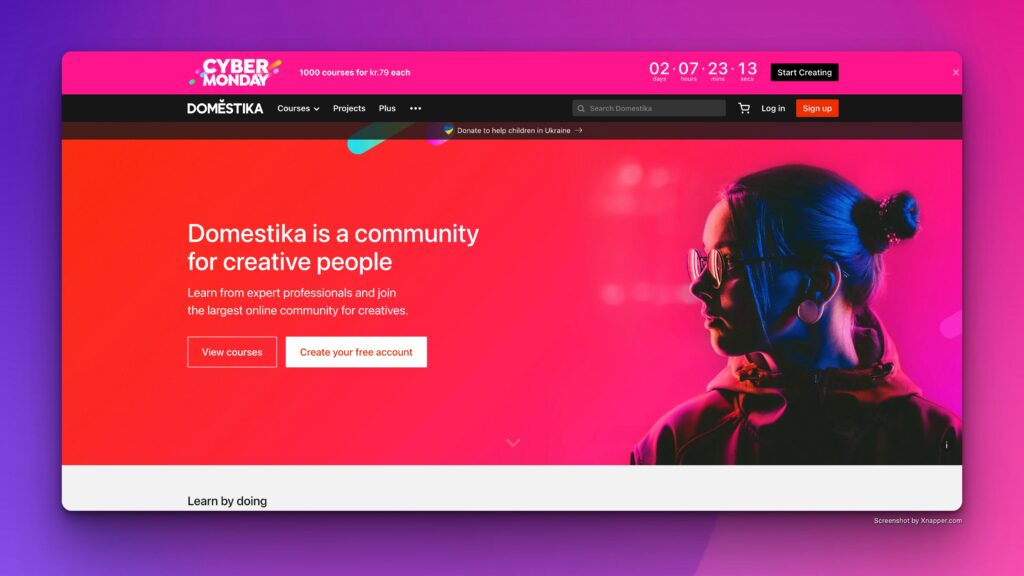 Domestika is an online learning platform like Skillshare. They brand themselves as a community for creative people. Unlike Skillshare, where you have to create the course yourself, on Domestika you have to bring the content and Domestika will produce, film and edit the course before putting it online on their platform so that the course is held to their high level standard. Unlike Skillshare you have to pay for each course, but the courses are often on sale for $10-15.
The affiliate program for Domestika is structured like this: If the user you referred makes a first-time purchase during that 30-day period, you'll get a 40% commission over the total sale. If it's a recurring purchase, you'll get a 20% commission and if they sign up for Domestika but don't make a purchase, you'll get US$ 2.00 for each user you've referred.
Udemy
Type: Online course platform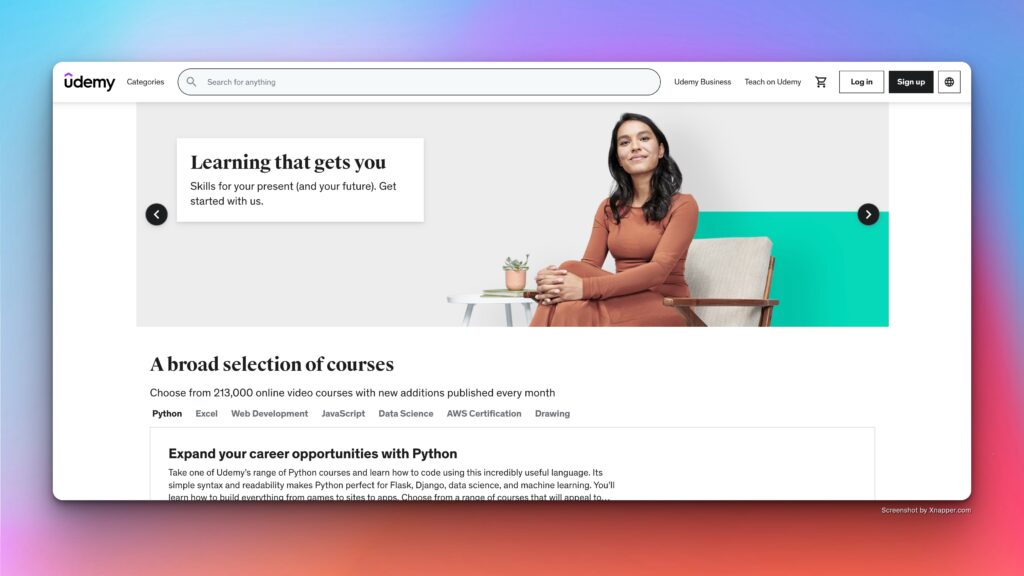 Udemy is an online platform that hosts thousands of courses on a wide range of topics, from programming to design to marketing. Anyone can create and host free courses on the platform, so long as they are certified to teach.
More than 25 million people have enrolled in Udemy's courses, and the company has more than $200 million in funding. Udemy is one of the most popular ways for people to learn new skills and earn money online. Many Udemy instructors use their platform for additional income by writing quality content and charging for premium course upgrades. The site offers a large global audience as well as flexible payment options and performance-based ranking systems. If you're looking to make extra money online, Udemy is a great place to start!
Flixel
Type: Cinemagraph software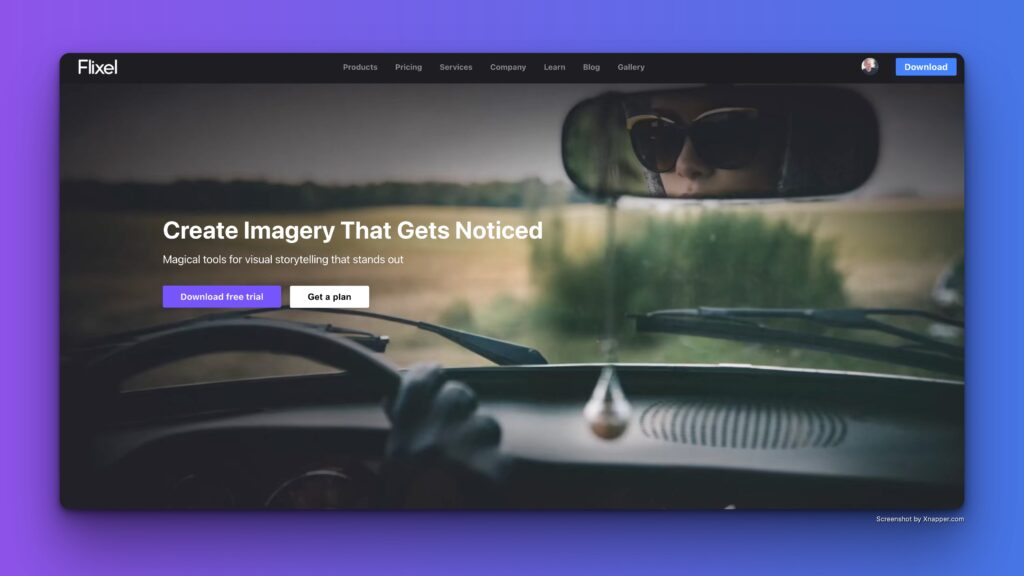 A cinemagraph is a type of art that combines still photography and video. It's created by taking a short video clip and using a mask to only show a small section that appears to be in motion. The result is an image that looks like a still photo, but with a continuous, subtle movement that makes it more interesting to look at. Cinemagraphs are often used in advertising and on the internet to make a visual display more engaging.
Flixel is a mac-based software tailored to creating cinemagraphs from videos. You can import your videos and then paint over the element you want to be still and the rest of the video will loop. You can then post these cinemagraphs to the flixel website or export the videos as a gif or as a video.
I used Flixel for many years when I worked a lot with cinemagraphs as part of my cinemagraph workflow. I created the animation I needed in After Effects and then imported that video into Flixel to create the loop and export it.
As an affiliate to Flixel, you can earn 10% recurring commission on every purchase made using your coupon code.
Writesonic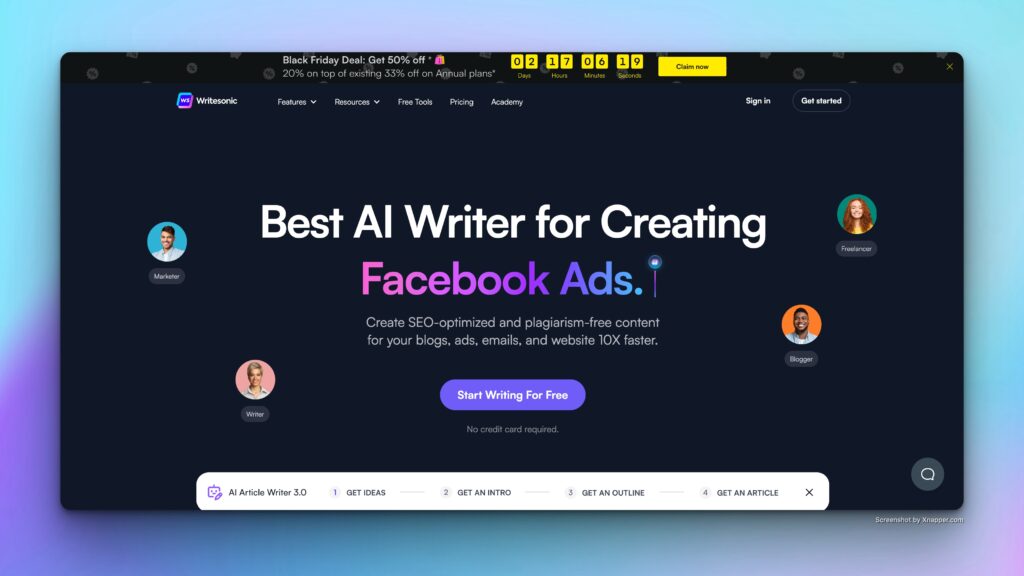 Type: AI copywriting tool
Earn 30% Lifetime Commission as an Affiliate!
Type: AI copywriting tool
Earn 30% Lifetime Commission as an Affiliate!
Moonbeam
Type: AI copywriting tool
Join our affiliate program and earn a 30% recurring commission for anyone you refer to Moonbeam!
Scalenut
Type: AI copywriting tool specialised in SEO research.
Earn up to 60% commission, for lifetime!
Typeshare.co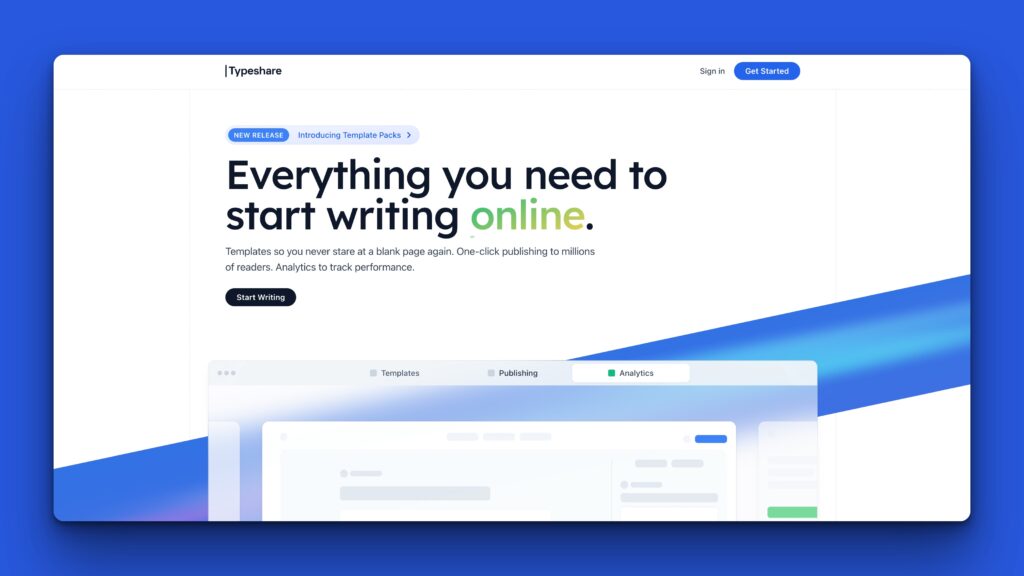 Type: Writing assistant
Templates so you never stare at a blank page again. One-click publishing to millions of readers. Analytics to track performance.
Get a 30% recurring, monthly commision made by users who sign up with your referral link.
Flipped Normals
Type: Stock footage and asset library plus courses. Focused on 3D professionals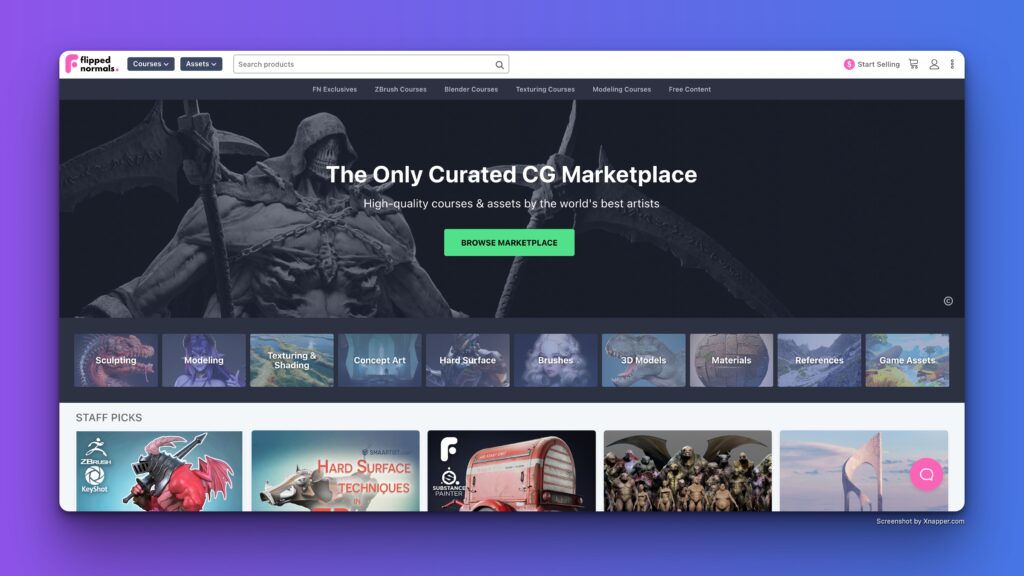 If you're a 3D designer you probably know Flipped Normals marketplace. The brand themselves as "The only curated CG marketplace". The offer high quality CG courses and assets for 3D professionals in categories such as sculpting, modelling, Texturing, Concept Art, 3D models, Game Assets and much more. I've been buying courses and assets from them for years and the quality is very high, which makes it a lot easier to recommend them as an affiliate.
If you sign up as an affiliate you can earn 10% commission on every sale you refer and they pay out every month if you have reached the minimum amount of $10.
Here's some example courses that you can promote:
Designmodo
Type: Website builders and tools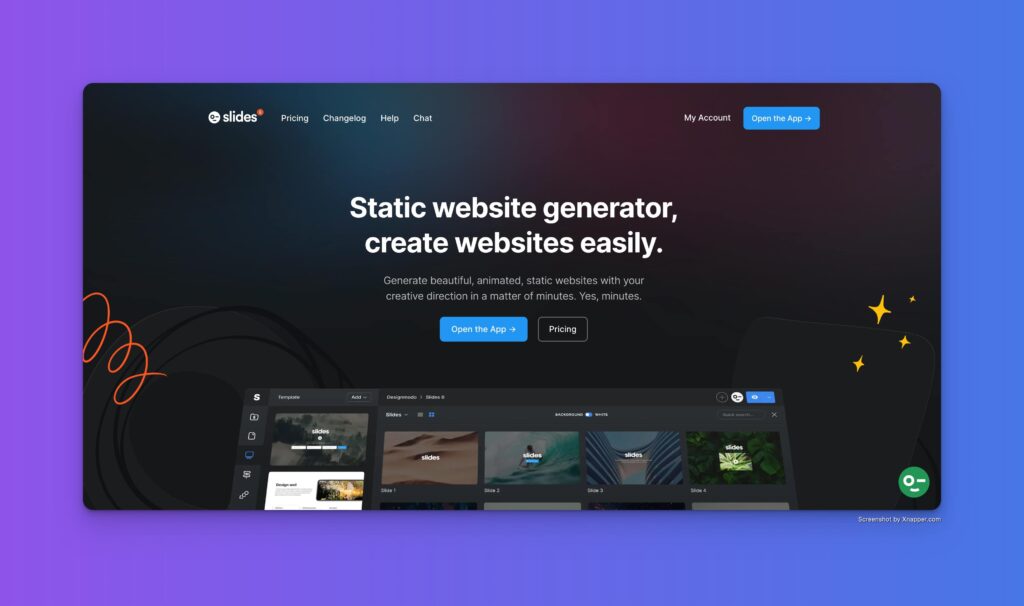 I really enjoy Designmodo and their high quality UI elements. Now that they offer an affiliate program it makes no brainier to recommend them. Designmodo has a lot of products in their lineup so there's lots to choose from if you want to promote them.
Slides is one their oldest products and one of the easiest ways to get an awesome looking landingpage produced quickly. It's a static website generator, meaning that you don't have to install a CMS like WordPress or build a backend in Webflow. It features over 140 slides in both light and dark variations with animations and page transitions that makes it possible to build a website in a few minutes. I've been using it for many years for my own projects and it creates high quality and fast-loading static websites quickly.
Startup is a website builder built on the Bootstrap framework. It comes with a variety of pre-designed blocks in different categories like headers, navbars, footers, etc and each premade design can be customized to fit the users need.
Postcards is a simple tool to create newsletters and emails. It features an intuitive drag and drop template builder that can be used by teams or individuals. You can edit text and images using the built in html editor and has a one-click export to Mailchimp, Hubspot or as plain html.
Their affiliate program is well designed and easy to promote because the quality of their products is so high in quality, their pricing is very reasonable and Designmodo's reputation precedes their products.
icons8
Type: Creative assets for design professionals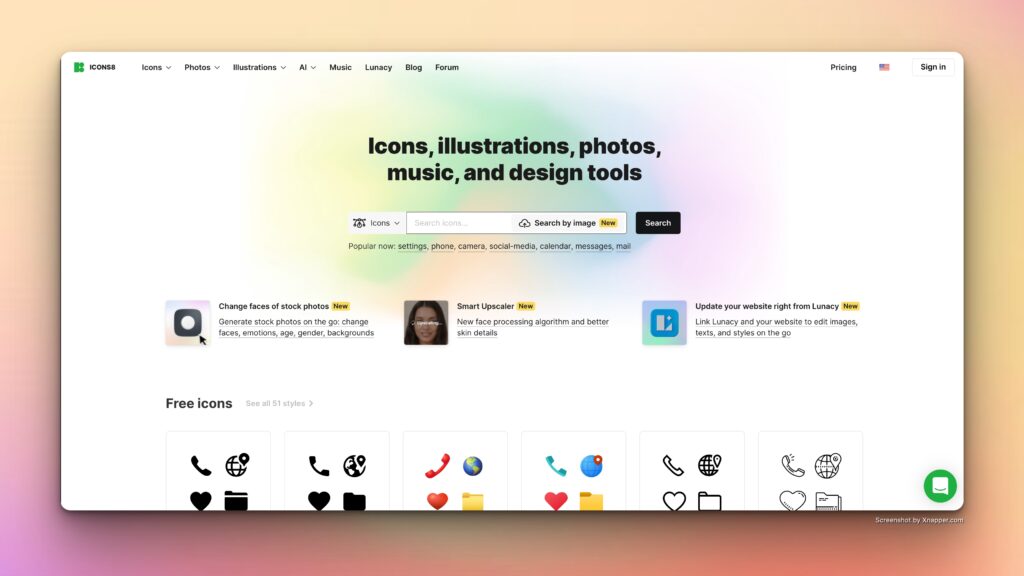 Icons8 is an icons pack digital provider and they offer a free and paid version. Alongside an extensive selection of icon packs, they also offer photos, vectors, music, and design software.
Icons8 assets are very high quality and hand-crafted by an in-house team of professional designers. They offer easy access to digital icons and more, all in one place.
This program could be marketed to people looking for the right tools and design elements to complement their creative projects.
You earn from qualifying purchases and programs through the traffic you drive to Icons8. You'll get:
70% for each customer that starts a paid monthly subscription and 25% for each paid annual subscription.
Penji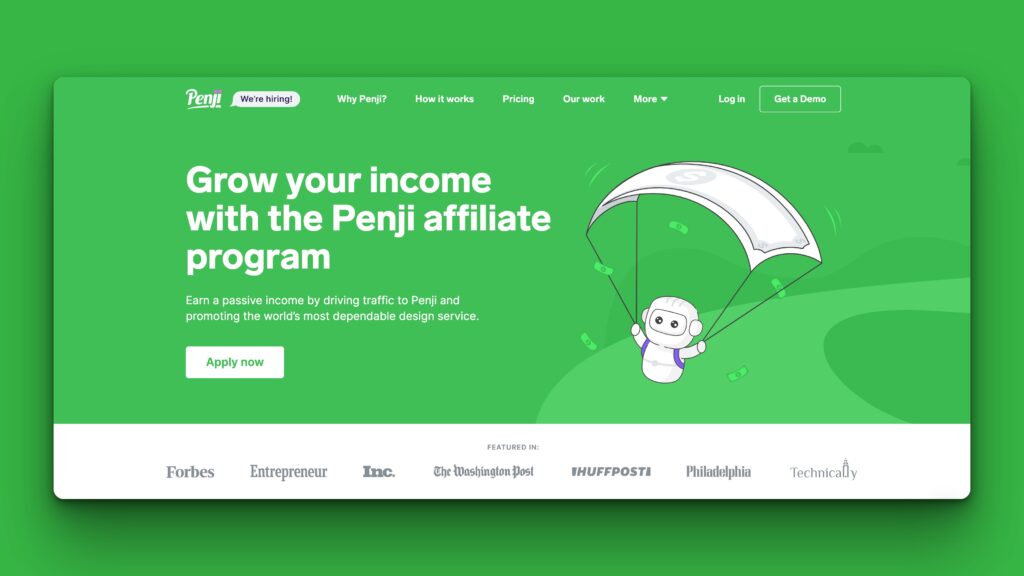 Type: Unlimited Design subscription service
Earn up to 25% for every sales conversion.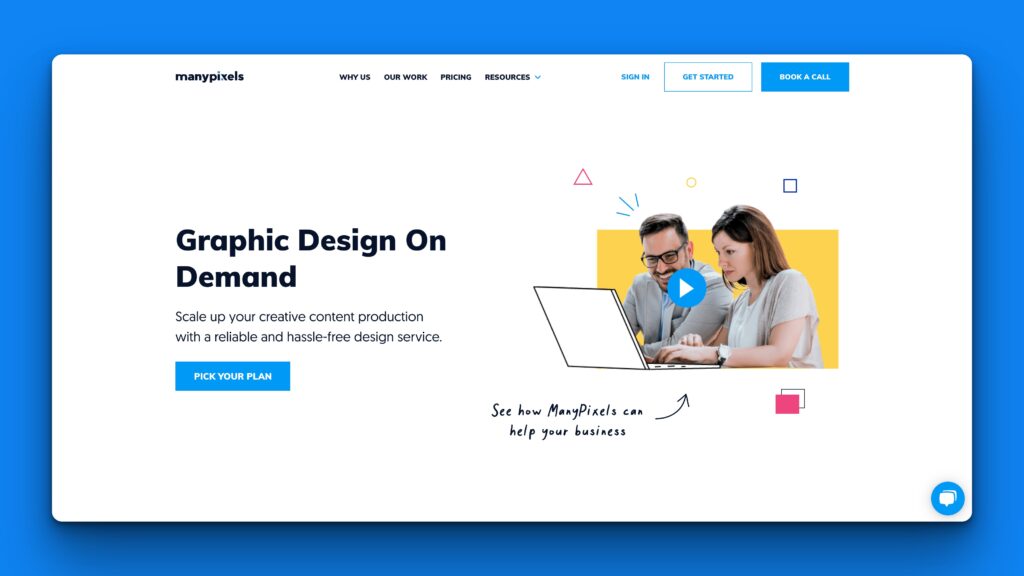 Type: Design subscription service
Our commission rate is 15% of each successful transaction
Dotyeti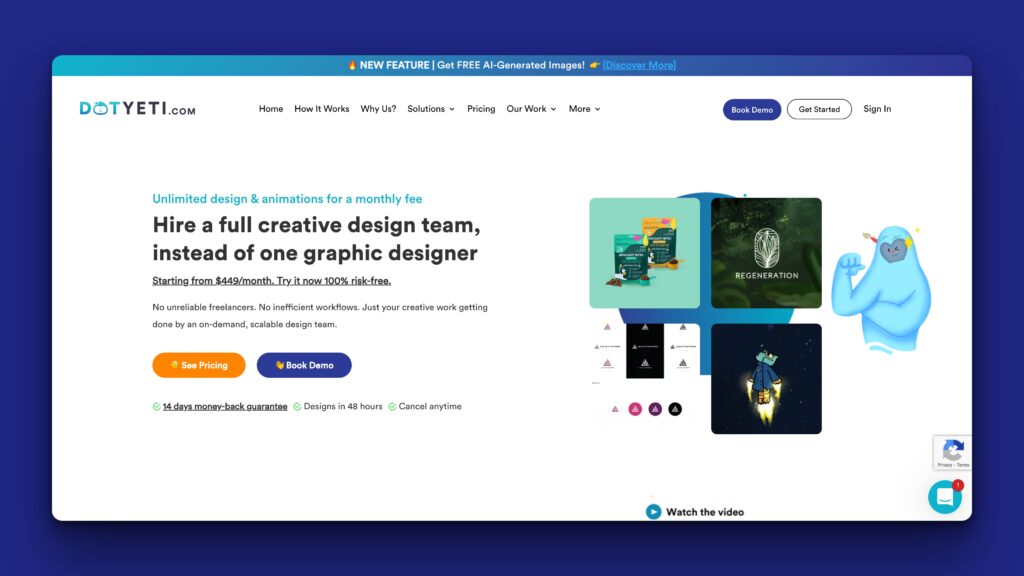 Type: Design subscription service
Earn up to $2,850 USD per sale!* . Refer a client, get paid, and they'll take care of the rest
Hypefury
Type: Twitter writing and scheduling tool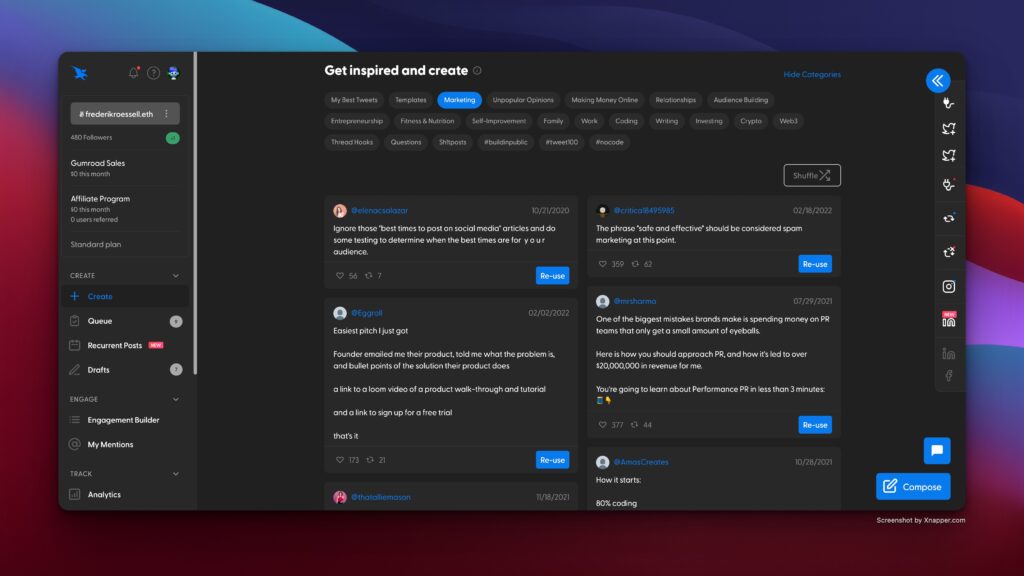 I'm using Hypefury to grow my own twitter account. It's easy to use and has two features I use on a daily basis: Threads and scheduling. It has a lot of advanced features too, but those two features are enough for me right now.
You start at a 25% commission level. You can earn up to 35% commission every month for every customer you refer to Hypefury.
Typefully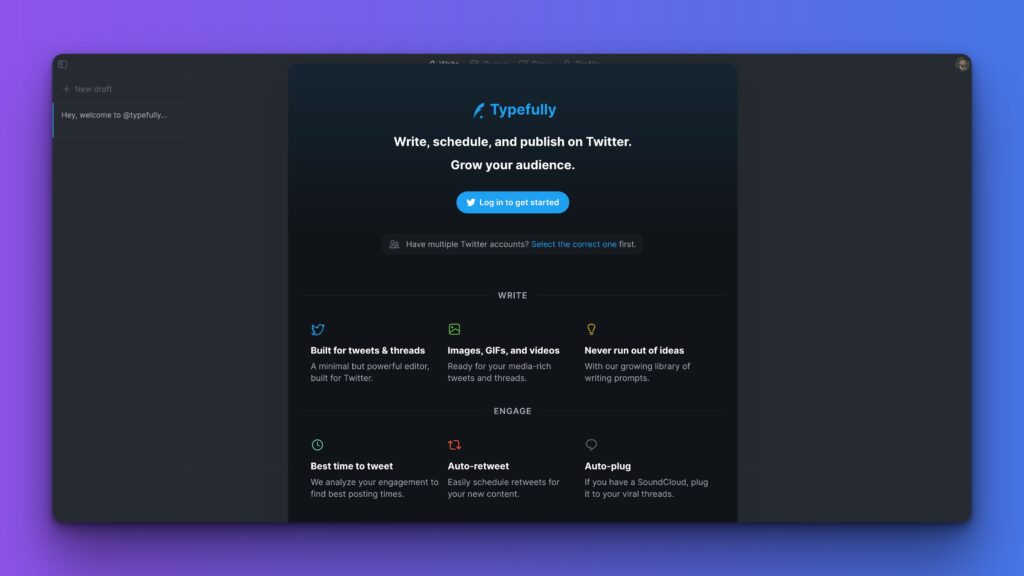 Type: Twitter writing and scheduling tool
You get a 20% recurring commission for every user that comes from your referral link and upgrades to our paid plans.
Type: Website builders
Refer people to Siter.io and get 50% of all payments for 12 months for each customer you send.
Framer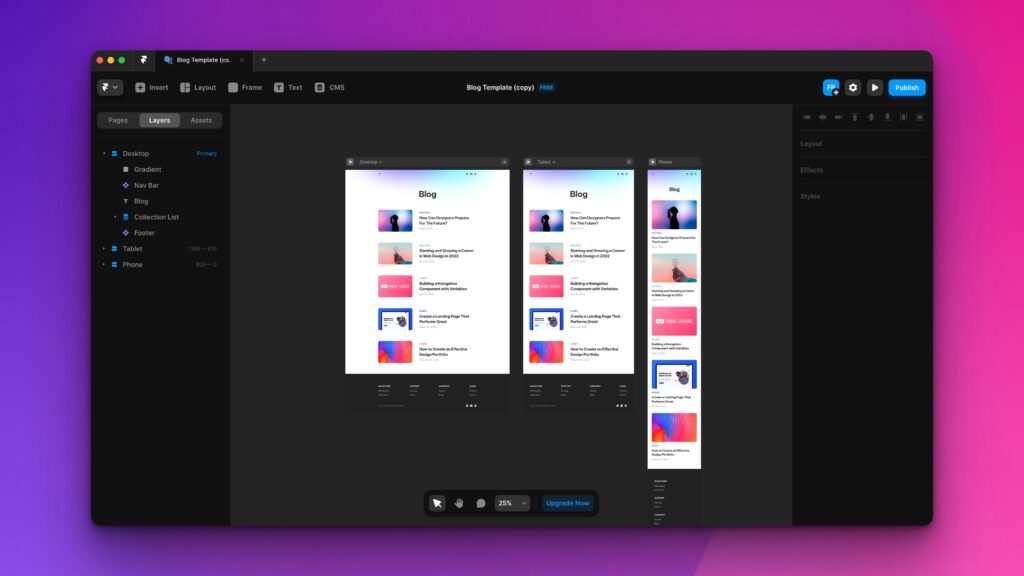 Type: Website builder
I've been using Framer for the last couple of weeks and I'm very impressed by it. Once you learn how it works, you can build beautiful landingpages and websites in no time. Together with Figma, Framer.com is going to be a stable in my daily workflow, I think. Look for more guides and a review in the coming weeks.
Promote Framer and earn 50% from every subscription for 12 months.
Notion.so
Type: Your digital brain
Refer Notion to your friends and followers, and earn 50% of all referred payments.
Gumroad
Type: Platform for selling and discovering digital products and services
Find products on Discover and earn 10% on every sale